Amid the abundance of online learning platforms, MasterClass is one of the well-known names. When I reviewed MasterClass, I shared my experience with the platform. While the courses were exactly what I was looking for, I understand it might not be the same for everyone.
MasterClass may not cater to every student's needs, which is why you might search for the best MasterClass alternatives.
Based on my experience with different platforms, I found a few of them offering similar and even better offerings than MasterClass. In this article, I will share the top alternatives to MasterClass that will help you go ahead with your online learning without breaking a sweat!
So, stick until the end to find which MasterClass alternative fits your requirements the best.
Top MasterClass Alternatives: Best 5 Picks
Need quick recommendations for the best alternatives to MasterClass? Here are my top 5 recommendations!
| | | |
| --- | --- | --- |
| Sr No. | MasterClass Alternative | Price |
| 1 | Mindvalley | $41.60/month |
| 2 | Coursera | $49 |
| 3 | Udemy | $11.99/month |
| 4 | Skillshare | $13.99/month |
| 5 | edX | $50-300 per course. |
Now, Let's dive into the detailed list of Best Masterclass Alternative:
1. Mindvalley
MindValley is an educational platform that offers online courses, software, programs, and services to help individuals improve their lives by converting them into better versions of themselves.
Mindvalley has made some noteworthy advances in the field of mentoring. They've devised a clever strategy that blends online learning with an app that ensures the effectiveness of the first and target sessions.
Mindvalley offers courses in various categories, including personal spiritual growth, self-development, and entrepreneurship. Mind, Body, Soul, Career, Entrepreneurship, Relationships, Kids, Teens, Parenting, and Performance are the categories of courses. These groups cover many themes, including manifestation, happiness, optimism, and relationships.
Key Features:
Community of Active Learners
Video Lessons in Bite-Size
High-Quality Video Content
Reputable Trainers
Free Courses Every week (60 to 90 minutes long)
Top Mindvalley Courses
While I shared the list of the best Mindvalley courses, here are my top 5 picks!
Duality – Jeffery Allen
Eight-week self-healing course to dodge negativity and embrace the power of visualization. By doing so, you're giving life to your day-to-day deep desires. You can also check my experience with Duality!
Unlimited Abundance – Christie Marie Sheldon
By connecting to your body, you release the negative limiting beliefs. This not only gets you comfortable receiving every ounce of good things your way but also triples your money.
Superbrain – Jim Kwik
Through a series of techniques, you tap into your subconscious and further unlock: Enhanced memorization, quick learning, improved concentration, perfectly intact self-esteem, etc. You can read how Superbrain worked for me!
Total Self Confidence – Paul McKenna
Re-ignites your self-belief and helps you bounce back from negative thoughts/ experiences much quicker. This is done by performing three techniques: Clinical Hypnosis, Psychosensory Therapy, and Neuro-Linguistic.
10X Fitness – Lorenzo Delano
Specially designed workout curriculum to get your body to become fitter, stronger, and more resilient. Considering we all desire faster results, that's what 10X Fitness provides! Check out the detailed 10X fitness review here!
Pricing: You can explore Mindvalley pricing with of annual plan starting from $41.60/month if you opt for the yearly subscription.
2. Coursera
Coursera offers a variety of courses that range in length from 4 to 12 weeks and are approved by several reputable colleges and universities. Coursera collaborates with several organizations and universities to provide online courses, specializations, and degrees in humanities, business, engineering, data science, mathematics, digital marketing, computer science, machine learning, medicine, social sciences, and biology.
Apart from specialty, Coursera has approximately 4,000 courses. Following the submission of a project, specialization is only a particular choice course with a set of lessons. Coursera offers some free courses from the best universities, making it one of the best Masterclass alternatives.
While these courses cover various topics, from art and history to computer science, they lean more toward mathematics and science-related professions. Even though Coursera concentrates more on the math and science side of academics, creatives will discover an appropriate and enough choice of courses.
Check out our detailed Coursera Plus review to learn about the platform in detail.
Key Features:
Partnered with Universities & Organizations
Affordable Courses & Degrees
Close to 2,000 Free Courses
Downloadable material
Quality Of Courses
Pricing:
While many courses at Coursera are free, some are expensive and require a fee to attend. You can take a look at the detailed pricing of Coursera. You can The majority of the paid degrees cost $49, and certificates are well worth the money.
Grab Coursera Plus discount and save up to $309!
3. Udemy
With 49 million users worldwide, Udemy is an excellent online learning platform. All online courses are self-paced, and you get lifetime access to any course you buy. Although some teachers provide the equivalent of office hours via discussion groups on a different chat platform, the essential substance is found in the courses.
Udemy has collected a vast inventory of online courses since anyone may create a program. There are many courses related to writing, art, composing music, and singing. They are not limited to or even focused solely on creative fields. Everything is covered, from applying mascara to how to manage people.
Dive into my detailed Udemy review to learn how it can elevate your online learning experience.
Key Features:
Affordable
Close to 600 Free Courses
30-day Refund Policy
Lifetime Access to every course you've purchased
Wide selection of courses
Certificate of Completion
Top Udemy Courses 
In my previous list of best Udemy courses, I shared various courses from different categories. However, here are the top five picks to make your selection easier. 
100 Days of Code: The Complete Python Pro Bootcamp for 2023
This certificate-based course gets you to complete several assignments, which give you hands-on experience with coding. In addition, you will learn data science, machine learning, building applications, games, etc.
Microsoft Excel – Excel From Beginner To Advanced
Right from the basic Excel functions to the most advanced ones, you get trained by a mentor with over ten years of experience. So, be ready to learn formulas such as INDEX, IF, MATCH, etc.
The Complete 2023 Web Development Bootcamp
You learn the latest developing technology with over 70 articles, 110 downloadable resources, 62.5 hours of video content, etc. Once you undergo this course, you can develop any website you want!
ChatGPT Complete Guide: Learn Midjourney, ChatGPT 4 & More
First and foremost, you will learn to create content with Chatgpt much more quickly. You will learn to access AI writing and video tools, plus you will learn several other skills to strengthen your branding, business, and so much more.
The Data Science Course: Complete Data Science Bootcamp
The 31-hour course gives you an entire toolbox to become a data scientist. You will receive 98 articles, 138 coding exercises, 542 downloadable resources, and, of course, a certification after completing the course.
Pricing:
The average course price on Udemy is between $11.99 and $199.99. For $20-$30 per month, Udemy offers Personal and Pro subscription options that provide students complete access to thousands of courses (albeit not every Udemy course).
Grab up to $10 off with our existing Udemy Coupon!
4. SkillShare
We have already done a detailed Skillshare vs MasterClass comparison here.
Like Udemy and LinkedIn Learning, Skillshare is based on an open-source platform. With less stringent screening processes, the site is more accommodating of new members. While this helps to expand learning possibilities for more people, the quality of those who participate suffers.
Skillshare has a large selection of courses. With over 25,000 distinct courses to choose from, you have access to many topics. The primary disadvantage is the tutorial slideshow format. This training session is ineffective when studying creative courses, such as musical training or painting classes.
Skillshare has a wide range of courses. However, these courses are designed so that a single course may provide much helpful information. You might also be able to discover a course that focuses on a particular topic or talent.
Check out our detailed Skillshare review!
Key Features:
Affordable
Free Trial
Engaged Community
A large selection of classes
Top SkillShare Courses
Digital Illustration: Learn To Create Procreate
iPhone Photography: How To Take Pro Photos On iPhone?
Graphic Design Basics: Core Principles For Visual Designs
Mastering Productivity: Create A Custom System That Works
Character Illustrations: Drawing Faces, Figures & Clothing
Pricing:
Skillshare Premium is only available in one payment option: annual, $167.88 (equivalent to $13.99 per month). The Starter, Enterprise, and Revive plans are available through Skillshare for Teams. It also offers a 7-day free trial. Learn the difference between Skillshare free vs Premium here.
Check out these Skillshare promo codes and get up to 40
5. edX
More like Coursera, edX offers world-class courses that are accredited by many leading institutions and universities. It is a non-profit organisation which is founded by MIT and Harvard.
edX offers more than 3000 online courses and 300+ accredited programs created by its top partners and universities like Harvard and Berkeley. It offers courses in subjects like Computer science, Business, Data Science, Language, Engineering and Humanities.
Currently, there are more than 25 million active learners present on the edX worldwide. Most of the courses on the edX are 4 to 12 weeks and require 4-8 hours of student per week.
You can explore edX in detail and see if it caters to your needs!
Key Features:
Training from the top tutors
Huge set of a catalogue of courses
Thousands of free courses are available.
Get a certificate which is accredited by top universities
Top edX Courses
Analytics: Essential Tools and Methods
Supply Chain Management
IBM Data Science
Project Management Course
Introducing To Computer Science and Programming using Python
Pricing
edX provides free audit courses but to get the verified certificate you will have to pay a fee. To get certified, you will need to pay a fee of around $50-$300 per course.
Bonus: Get 15% off on edX using our exclusive discount code!
6. Khan Academy
Khan Academy has a massive 130 million users globally! The platform is a free online educational platform with over 3,000 instructional videos for learning math and science. It was founded by Salman Khan, a former hedge fund manager. He intended to provide education to the entire world, particularly those in impoverished countries, without the need for money or specialized online courses.
Furthermore, Khan Academy is among the best online learning sites to consider if you want to go online to increase your comprehension of a topic. Each course includes texts, videos, and other interactive features that are arranged in a logical order so that you can begin right away.
You can access Videos depicting drawings on a virtual chalkboard via a mobile phone. It simulates the experience of an instructor giving a lecture in front of the class, with the narrator of each session detailing the drawings and how they relate to the material being taught.
Key Features:
Free to use
No account necessary
Video lectures, readings, and quizzes
Test-prep and college-prep resources
Generous language support
Top Khan Academy Courses
Art History
The history-based curriculum will cover units like Europe 1300-1500, Modernism 1900-1980, Art of Asia, Art of Africa, Art of Oceania, Art of the Islamic World, etc.
Computers and the Internet
It encompasses five units: Digital Information, Computers, The Internet, Online Data Security, and Computing Innovations. This, again, is segregated into 4-8 subtopics.
Statistics and Probability
Divided into 16 units, Statistics and Probability mainly focus on analyzing the categorical data, then displaying the quantitative ones and summarizing it. Of course, the leveling up by adding more factors to it.
Finance and Capital Market
For someone without a clue about financing, these ten units, consisting of Housing, Taxes, Accounts, Debts, Stocks, Financial Statements, etc., are the best place to start.
US Government and Civics
In this detailed Civics class, you will learn more than you had ever learned in the school. Here, you will get hands-on knowledge of the US Government, how the processing works, Liberties and Rights, citizenship, and so much more.
Pricing:
Khan Academy is a Non-Profit organization. "To deliver a free, world-class education to everyone," the organization's mission statement reads. Khan Academy is, therefore, completely free. There is no need to sign in or have an account to access the lessons.
7. LinkedIn Learning
LinkedIn is a social networking site where business and corporate professionals may connect with others in their field. LinkedIn has also emerged as an open-source learning platform that uses professionally-led course videos to help you discover and improve business, technology-related, and creative skills.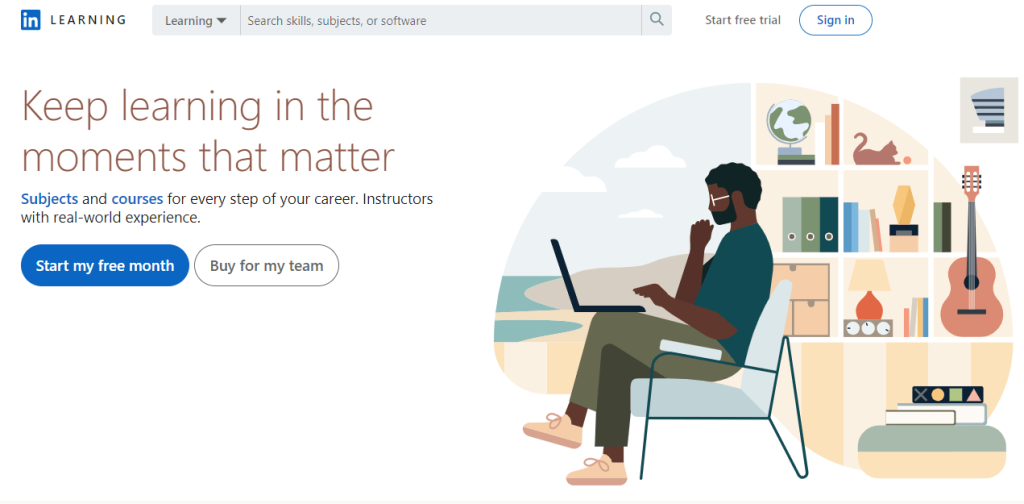 LinkedIn's huge library has over 14,000 classes covering over 5,000 courses, allowing you to choose courses relating to your area and hobbies. The quality of information and lessons on LinkedIn varies depending on the course provider, as it does with most open-source platforms. There are also a few free courses that you can check out!
LinkedIn Learning makes good use of its own LinkedIn users to develop material and mix it with assisting other users in learning from professionals. 
You can check out the detailed LinkedIn Learning review to get a complete insight!
Key Features:
1-Month Free Trial
Certificate of Completion
Downloadable Courses
Self-paced Courses
Multiple Languages
Top LinkedIn Learning Courses
Goal Setting: Objectives and Key Results (OKRs) – Jessie Withers
Excel Essential Training (Office 365/ Microsft 365) – Dennis Taylor
Interpersonal Communication – Dorie Clark
Cultivating a Growth Mindset – Gemma Leigh Roberts
Project Management Foundations – Bonnie Biafore
Pricing: 
You can buy a single course costing anywhere between $20 and $40. Or you have to choose between an annual or monthly subscription. An annual subscription of $239.88 works out to $19.99 each month, and a monthly subscription of $39.99. You can check LinkedIn pricing breakdown to see other pricing plans.
Grab 50% off on LinkedIn Learning using our working coupon code!
8. The Great Courses
As the name suggests, The Great Courses website is the perfect replacement for MasterClass. All the courses available on this website are in both audio and video format, and they are offered by a company named The Teaching Company.
This company has been offering digital courses since the era of VHS tapes, so that you can trust the courses offered by this website. College students can find courses that are compatible with their college curriculum here on this website.
On this app, you can find courses from various categories such as Science, Economics & Finance, Mathematics, History, Food & Wine, Travel, Health Fitness & Nutrition, Hobby & Leisure, and many more. Some of their best-seller courses are Our Night Sky, Outsmart Yourself, The History and Archeology of Bible, How To Play the Piano, How To Stay Fit As You Age, The Aging Brain, Understanding the Quantum World, and so on.
Key Features:
Offers courses from various categories
All the courses are affordable
Offer discounts on certain categories all the time
The app is available on multiple devices
Partners with top universities & companies
It gives lifetime access to the courses
Top The Great Courses Courses
Learning To Play Guitar: Chords, Scales, and Solos
The Everyday Gourmet: Rediscovering and Lost Art of Cooking
Dog Training 101
Understanding Investments
Writing Great Fiction: Storytelling Tips & Techniques
Pricing
The pricing of the courses froThe Great Courses website ranges from $19.95 to $169.95.
9. CreativeLive
CreativeLive is a creative online network for businesses and creative professionals. It has over 2,000 curated lessons given by 700+ carefully selected instructors. Its classes are geared towards honing your creative abilities and expertise, hence the name.
CreativeLive offers a unique feature that sets it apart from other online platforms. CreativeLive TV is a free, 24-hour channel. Live broadcasting from living rooms, studios, and kitchen tables is included. Live musical performances and Q&As are also held. This creative and entertaining content is absolutely free and well worth your time.
Key Features:
High-Quality Videos
Industry Icon Instructors
Free Live Classes
Accessibility
30-day Refund Policy
Top CreativeLive Courses
Designing Your Life: How to Build a Well-Lived, Joyful Life – Bill Burnett and Dave Evans.
Fundamentals of Photography – John Greengo
Adobe Photoshop Photoshop CC: The Complete Guide – Ben Willmore
Wired For Story: How To Become A Story Genius? – Lisa Cron
Adobe Lightroom Classic CC: The Complete Guide – Ben Willmore.
Pricing:
CreativeLive has two pricing options: The Creator Pass and CreativeLive for Teams. Three alternative payment methods are available with the creator pass plan: $149 for the annual plan ($12.42 each month) and $15 monthly, but you must commit for the entire year, $39 monthly option.
According to the size of your team, you can choose between the Standard plan and the Enterprise plan in CreativeLive for Teams. It costs $149 per person per seat and is invoiced annually.
Related Reads:
Final Thoughts: Best Masterclass Alternatives (2023)
As much as I love the courses offered by MasterClass, the courses might not be the right fit for everyone. The platforms mentioned in my list above can be a perfect alternative to MasterClass.
However, note that each platform provides different courses. To narrow your pick, let's summarize the article:
Mindvalley: If you want to focus on mindfulness and personal growth.
Coursera, Udemy, and Skillshare: Best for students looking for certification courses.
edX: Best for people who want a degree program.
CreativeLive: Best for businesses and creative professionals
Khan Academy: For middle school students.
Make sure to go through all the platforms and opt for the one that aligns with your requirements perfectly!
Latest posts by Alvin Parker
(see all)