Founded in April 2012, the online learning platform Coursera has more than 92 million registered learners, and the numbers are growing dramatically every year.
While Coursera offers many free courses, a large number of people do not hesitate to pay for the courses that aren't available for free but finding out the right course and its pricing is complicated when you have 7000+ courses on the website. 
If you are confused about the pricing of Coursera, don't worry. You have come to the right place! In this article, you will learn about the pricing duration and overview of Coursera degrees, specializations, guided projects, business plans, and more.
With that, let's get into the details!
Coursera Cost: A Quick Overview
If you do not have time to review the entire article, here is a quick summary of Coursera's costs.
Course Name
Number of Courses
Duration
Cost
Guided project
2500+
1-2 hours
$9.99+ per course
Coursera Degrees
35+
1-6 years
$6000+
Specialization
1550+
1-12 months
$39.99+ per month/ per unit
Professional Certificate
100+
4-7 months
$39.99+Per month
MasterTrack Certificate
20+
4-7 months
$2000+per course/ per month
Coursera for business:
Enterprise Plan
Team Plan

5000+
Not specific

Contact to sales
$319/user/year annually or Quarterly
Coursera Plus
7000+
Not specific
$59 – $399 per month/per annum
Coursera Cost: Pricing
Coursera has many e-learning courses bundled together and available in many different languages. Read the below list carefully to understand each one:
Guided Project
Coursera offers 2500+ Guided projects starting from $9.99 per course that help develop job-relevant skills at an affordable price in a short duration. They include hands-on tutorials for nine subjects, including data science, business, health, etc. Guided projects provide step-by-step learning through the project, where learners use cloud-based desktops with no download required. Guided projects allow learners to create their own projects for the tools and use cases most important to them.
Coursera degrees
Coursera has 35+ degree programs starting from $6000 for bachelor's and master's, offered by top universities from all over the world, opening a path to many careers in different fields. This degree program helps you earn a high-stature degree from much less than high on-campus programs. Coursera degree offers live expert instructions with team-based learning making it highly efficient.
Specialization
Specialization helps get in-depth information about skills through a series of courses and hands-on Capstone projects. The Capstone projects play an essential role in Specializations, as they are needed to be completed to get credit for the specialization. There are 1550+ Specializations available on Coursera, starting from $39.99 monthly, that help develops skills such as 3d modeling, academic writing, accounting management, algorithms, etc.
Few Specialization courses take three courses to finish, while few might take ten or more courses to complete. Coursera offers some of its Specializations for free. However, they do not provide certification after completion.
Professional Certificates
The Professional certificate on Coursera will give you a proof to acknowledge your skill by providing you with a case study that can be shared with potential employers. In addition to that, you also get expert training from top educators from across the world, and you get the opportunity to learn things at your own pace.
Coursera offers 100+ Professional certificate courses starting from $39.99 monthly that help build job-ready skills with shareable certificates on LinkedIn.
MasterTrack Certificate
The MasterTrack certificate starting from $2000 per course or per month, helps you earn career credentials while having courses that will count towards your master's degree. It offers certificates in UX, cyber security, software engineering, etc. You will receive an official university certificate regardless of whether you elect to enroll in a complete master's program.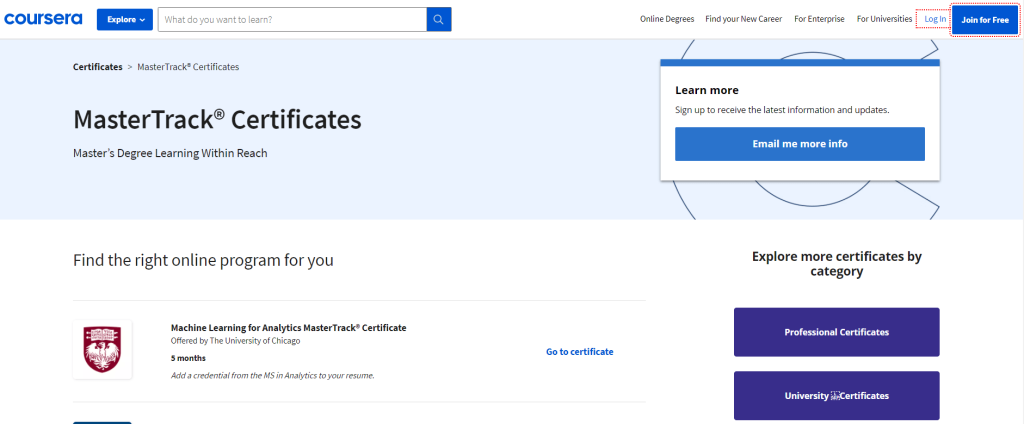 Coursera for Business
Coursera is nowhere behind the other online courses regarding business plans. It offers two great plans for businesses that want to make themselves superior by working on fining their workers. The business plan includes two plans:

Enterprise Plan: Made for larger companies, the Enterprise plan has custom pricing. It provides unlimited access to skill metrics, user analytics, private authority tools, API interactions, and integration to drive success. The Enterprise plan helps employees understand the full value of technology and investments and build critical skills that grow an organization.
Team plan: Made for smaller organizations and teams, priced at $319/user/year, the Team plan on Coursera guarantees a 14-day refund. It offers over 5000 courses from top universities, verified certificates upon completion, access to guided projects, assessments, quizzes, and much more.
Coursera Plus
Coursera Plus provides access to over 7000 world-class courses, job-ready certificates, and hands-on projects taught by top instructors from 170+ leading universities, i.e., access to over 90% of courses, degrees, and professional certificates on Coursera at a $59 per month subscription with a 7-day free trial, which you can cancel anytime and $399 annually with 14-day money refund guarantee.
Coursera Plus is a money saver if you plan to take multiple courses. Coursera Plus allows its learners to switch to a different course and move between various courses. It also allows you to explore trending topics while advancing your skills.
Which Plan Should You Choose?
Every course in Coursera is designed keeping in mind the different needs of learners. Learners willing to invest less time and money should opt for Guided projects. In contrast, learners who want proper knowledge with certification proof to showcase in a subject should opt for a MasterTrack certificate, Specialization, or Professional certificate.
Learners seeking a high-stature degree from much less than high on-campus programs should choose a Coursera degree. If you are interested in learning multiple courses together, spending money on Coursera Plus would be the best option. If you think the pricing of Coursera plus is out of your budget, then you can check our Coursera Plus discount here.
The Enterprise plan offers much more features than the Team plan. However, the team plan is sufficient for small organizations. The enterprise plan may win the race if we discuss the benefits offered.
Financial Resources
If you want to learn from Coursera but don't have the budget to pay for the courses, then Coursera's financial resources can help you with that. There are six different financial resources available on Coursera, and if you fit in any one of them, then you should contact the Coursera team right away. Here are the financial resources of Coursera:
U.S. Federal Financial Aid: This option is for US students only, and they can apply for financial aid and receive aid from FSA (Federal Student Aid).
Employer Tuition Reimbursement: If you want to pursue a higher degree to get promoted within your company, then you should check out this option and see how your employer can help with your studies.
Grants & Scholarships: There are plenty of scholarship options available, and Scholly is one of them, and you can use that scholarship to pursue a degree from Coursera.
Private Loans: Credible is the official loan partner of Coursera, and it can help students in getting private student loans.
Tax Credits & Deductions: With this option, US students can get tax credits on the degree they are pursuing and get interest tax deductions on their student loans.
Resources For Non-US Students: Coursera also offers resources to students outside the US. If you fall in this category, then you should contact Coursera right away.
Coursera Refund Policy
Coursera offers different refund policies for their different type of courses. There is a 7-day free trial available for Coursera Plus monthly plan, and once it finishes and the monthly plan starts, then you won't get any refund on it. However, if you choose the Coursera Plus annual plan, then you will get a 14-day money-back guarantee on it, but if you excessively use your account, then you won't be eligible for a refund.
The same refund policy applies to specializations, and there is no refund for guided projects. If you have purchased a degree, master track, or university-certified program and want a refund on your purchase, then you will need to contact the content provider and ask them for a refund. The same policy applies to any third-party purchase you make.
Does Coursera Offer Good Value For Money?
Coursera offers great value for money, and the reasons behind this are:
Renowned institutions like Yale, Princeton, Meta, Microsoft, Google, and the University Of Edinburgh offer all the courses on Coursera.
The instructors of these courses are experts in their own fields. In many courses, the instructor is the same person who teaches the same thing in the University.
The average rating of most courses on Coursera is around 4.7 out of 5. Most students of Coursera recommend its courses to their friends & family.
Coursera is one of the few e-learning platforms that offer certifications that you can use to get advancement in your career and learn job-ready skills.
Coursera also offers degrees and mastertrack courses at an affordable cost than universities.
With a Coursera Plus subscription, you can get access to most courses and learn multiple skills at once. Also, you can earn as many course completion certificates as your want with the subscription.
Wrapping Up! Does Coursera Cost Worth It? (2023)
Whether you are a new learner, an organization, or an employee looking for a way to better your skills, Coursera will prove to be the best online learning platform with 7000+ courses by top universities taught by brilliant educators. While various courses on Coursera are available for free, investing money in the paid ones is worth it. What course have you picked from Coursera? Let us know in the comment section below.
FAQs On Coursera Cost
Should I put Coursera on my resume?
Yes, Coursera certificates add value to your resume, and they should be added to your education list on your resume.
Do Coursera certificates expire? 
Yes, If the certificate is not earned within 180 days, the registration expires, and the person will need to pay to re-enroll as per the terms and conditions of Coursera.
Does Coursera offer scholarships?
Yes, Coursera is ready to help its brilliant learners who can't afford the courses by providing financial aid for most of the courses.
Can Coursera count for college credit?
American Council on Education's College Credit Recommendation Service (ACE CREDIT) has approved college credit for 5-year courses on Coursera.
Latest posts by Alvin Parker
(see all)