Udacity vs Coursera are both the most popular and trusted e-learning platforms today. But, how should one decide which platform is the best for them? While the internet is full of information today, it can leave you more confused than ever.
While Udacity and Coursera have some exceptional features, they also have some uniques functionalities that make them stand out to their audiences. In addition, both platforms have incredibly loyal users continuing their learning journey. So what makes the users have certainty in these platforms?
Since we have been using both platforms for a considerable amount of time, we have decided to pen down an unbiased and honest comparison between Udacity vs Coursera. Although both the online learning platforms are ace in their performance, it is better to go through a reliable comparison before investing your money.
In this article, we will go through every critical aspect of Udacity vs Coursera so that you make a clear decision by the end. We listed all the vital areas like key elements, pricing, user interface, etc., to know which e-learning tool best fits your needs.
With that, let us quickly dive into the article!
Udacity vs Coursera: Key Differences
Here are the key differences between Coursera and Udacity.
Coursera offers more than 7000 courses across 11 different categories, whereas Udacity has only 300+ courses in the digi-tech niche and categories.
The courses of Coursera have university-style lectures, whereas Udacity's lessons focus more on vocational training rather than just teaching things in a lecture style.
With a Coursera Plus subscription, you will get access to almost 90% of courses of Coursera at just $399/year. There is no subscription available on Udacity, and its single course can cost up to $399.
The courses of Coursera are designed by Universities and taught by real-life instructors, whereas Udacity's courses are designed and taught by programmers.
Coursera offers more than 2500 courses for free, and you can audit them, whereas Udacity only offers 200+ free courses.
Udacity vs Coursera: Overview
Let's quickly go through an overview of Udacity vs Coursera before getting into other essential details.
Udacity Overview
Udacity is an online learning platform that enables you to learn from any corner of the world. You can take courses and learn about your favorite topics in detail without enrolling in traditional tuition.
Udacity offers detail-oriented courses and has a focused set of skills that you will accomplish by its end. It also provides certificates for all the courses however you will have to pay for them. Nevertheless, you can learn and assess your skills from these courses.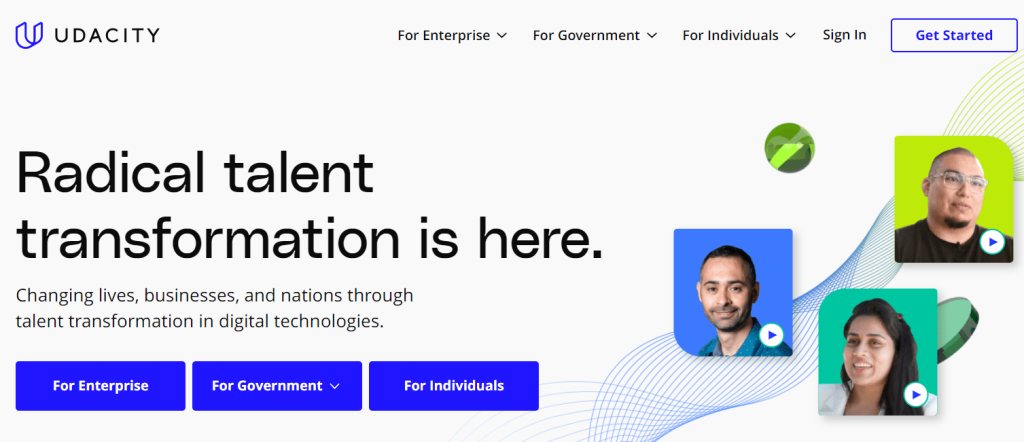 The courses offered by Udacity involve some of the top mentors and experts in the targeted industry. In addition, most of the mentors have excellent academical skills that they will share with you to help you improve your performance.
Coursera Overview
Coursera is one of the top e-learning websites today. A massive course catalog of 3000+ courses stands strong above all its competitors. One of the benefits of Coursera is that you never run out of options no matter what your field is, but that is not it.

Coursera has courses conducted by experts from world-class universities. In addition, it brings you courses and degrees from IVY league institutions known for excellence. These courses are a result of extensive research and high-quality data.
Udacity vs Coursera: Key Features
Both Udacity vs Coursera has some exceptional features and functionalities. Here we have compared the critical elements of both platforms so you can decide which e-learning platform fits your needs the best.
Udacity Key Features:
Graded quizzes and assignments
Final projects to develop skills
Direct communication with teachers
Skill assessment
Self-paced paid and free courses
High value and marketable skills
Coursera Key Features:
Time flexibility
Unlimited courses
Institution level degree programs
Elite course content
Shareable certificates
Offers financial help
Udacity vs Coursera: User Interface
Below, we will mention all the details about Udacity vs Coursera's ease of use and how well these platforms work for new users.
Udacity User Interface
Udacity has a simple website interface for its users. It is specially constructed to save time so that users do not have to take long to figure out the platform's overall dynamics and quickly get to the learning part.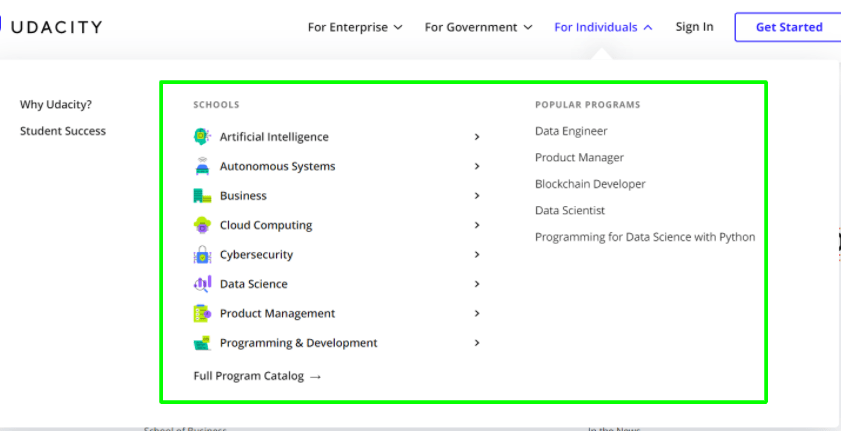 Udacity has a super easy website to navigate through; at the top of the screen, there is a dashboard in which you can find all the essential amenities. The top ribbon also has a search bar where you can search for a specific course.
Coursera User Interface
Coursera is the most preferred e-learning platform, and its beginner-friendly user interface has played a considerable role in it. In addition, the e-learning platform is super simple to navigate so that the newbie users do not have trouble adjusting to the LMS.

You can instantly feel at home with Coursera as there is not much to figure out. Everything you need is in front of you. You can refer to the dashboard for the course catalog and other stuff and head to the downloaded section to view your offline courses.
Udacity vs Coursera: Free Courses
Udacity vs Coursera both offers plenty of free courses. So let us check out the free courses offered on both platforms and what lacks in free courses that you can unlock in the paid ones.
Udacity Free Courses
Udacity has around 200-300 free courses. While the number might be less, the advantage of Udacity's free courses is much higher than Coursera. The reason is that Coursera offers more free courses, whereas Udacity provides more content in the free courses.
Although you will not get any certificates at the end of the free courses, you still access the quizzes and assignments, and in some courses, you might also get a final project. Therefore, these exercises are fundamental to building an excellent base to apply all your knowledge practically.
Coursera Free Courses
Coursera has a wide range of courses that you can take without paying any money. However, there are no extra benefits in these courses like quizzes, graded projects, etc. All the theoretical knowledge in these courses is available, and there are no restrictions on any stage of the courses.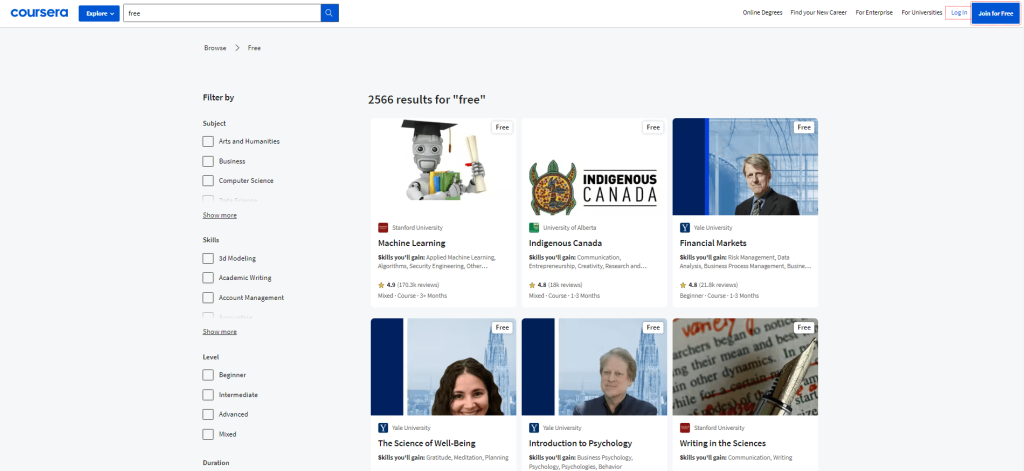 While you may not be eligible for graded assignments and tests, some of the free courses at Coursera do offer peer-evaluated tests. The knowledge and information in these courses are immense; however, you cannot possess any proof of your understanding through Coursera's free course.
Udacity vs Coursera: Customer Support
An online learning platform needs good customer support as there is already less human contact. So to assure the users that they will take care of all the issues, the support team of Udacity and Coursera give their best efforts. Let us see how.
Udacity Customer Support
Udacity has active and responsive customer support that works 24/7, 365 days a year. It
Has a more direct approach towards its learners regarding one-to-one interaction; you can approach your mentors and communicate with them about any of the problems you face in your courses.

Udacity enables you to interact with them via chats where you can take their advice and discuss issues. Along with that, it also allows progress tracking and customizes your learning schedule weekly.
Coursera Customer Support
Coursera has a team of experts to solve your platform-related issues. This team is available 24/7, all days of the year. You contact them by heading to their help page, where you can post your question and derive generalized answers.
The paid subscription of Coursera included direct one-on-one interaction that helped you solve any technical issues. In addition, you can solve any additional problems related to your course by communicating with your peers and teacher forums.
Udacity vs Coursera: Pros & Cons
Here are the benefits & drawbacks of Udacity and Coursera.
Udacity Pros
The instructors available on Udacity have real-world teaching experience, so it is easy to learn from them.
Nanodegrees of Udacity focus on a particular skill and can also get you a job based on that skill.
Most of the classes available on Udacity are self-paced, meaning you can finish the course at your own convenience.
The Nanodegrees of Udacity is designed for individuals, governments, and businesses.
You will get accurate feedback on your performance on any real-world project, which will help you get better.
Udacity Cons
The Nanodegree programs of Udacity are a bit expensive compared to Coursera's annual subscription.
Most Udacity courses only last one month.
Coursera Pros
The instructors of Coursera are real-world teachers from prestigious universities and institutions.
You can get accredited certificates from Coursera.
Plenty of free material is available for you to go through before buying the Coursera Plus subscription.
You can audit most of the courses on Coursera without paying anything, but you will have to pay for the certificate.
Coursera has a community forum where you can connect with other students & instructors and ask them questions.
Coursera Cons
The pricing of the courses can be confusing unless you're buying the Coursera Plus subscription.
Coursera is not as flexible as Udacity, and its courses are similar to those you will learn at a university.
Udacity vs Coursera: Pricing
Udacity and Coursera have many courses that you can learn from. But to unlock their complete advantages and add the credibility you get from those courses to your portfolio, you must upgrade to their paid subscription.
Udacity Pricing
Wanna save a few bucks on Udacity check our working Udacity Coupon & Discount here
Udacity has a simple pricing plan for its users. The purpose of this plan is that the users should not have to waste much time figuring out its pricing scheme and can get to learning as soon as possible. You can either buy courses separately on Udacity or opt for the Udacity Nanodegree plan, where you can take up unlimited classes.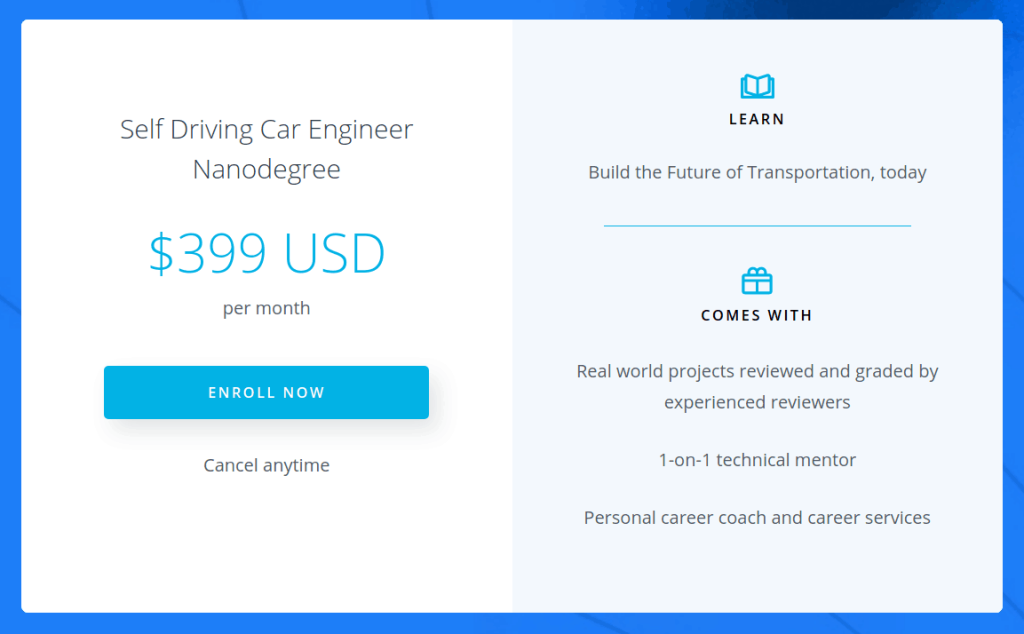 Udacity's Nanodegree plan is best suitable for people who take multiple courses and want to learn for an extended period. The Udacity Nanodegree plan is priced at $399 a month.
Coursera Pricing
Coursera has two versions: the free version with restrictions and Coursera Plus, which unlocks all the barriers. Coursera Plus is a paid subscription that offers complete courses with certificates.
You can earn as many certificates as you want by taking several courses. Coursera Plus has two plans, and the first is their monthly subscription that starts at $59 and is perfect for people who want to complete their courses quickly.
The second option is for their long-term users, which is the annual plan. Coursera Plus's yearly subscription is best suited for users who want to take up multiple courses and complete them at their own pace. Coursera Plus's annual membership starts at $399 a year. We have already done a detailed breakdown of Coursera's cost here.
Who Should Choose Udacity?
While Udacity covers most of your learning needs, the online learning platform focuses more on highly specialized courses. However, this does not necessarily mean that it has fewer options for you. It solely depends on you and the goals you want to accomplish.
Udacity as a learning platform has proven to be one of the top-ranking ones. The people who learn here have added some excellent skills to their portfolios. The reason behind it is that Udacity provides courses that have a targeted approach toward developing and improving your skills.
Moreover, Udacity enables self-paced learning, which means you are free to complete your courses whenever you want. You can schedule your lessons according to your timeline and even push your deadlines.
The courses on Udacity are conducted by academic and industry experts. These courses include various engaging activities to test your knowledge like quizzes, assignments, projects, etc. Overall, Udacity is the perfect fit for someone who wants to develop or refine a specific skill in a short period.
Who Should Choose Coursera?
Courses have a massive course catalog and are an all-in-one e-learning platform that caters to everyone's needs. Coursera offers university-level courses that are extensive and have great credibility. Each course on Courses has a different timeline depending on the specialization you choose; however, all the courses have flexible timelines.
If you are looking to pursue knowledge based on an institutional degree, Coursera is the perfect e-learning platform. It has more than 3000 courses from world-class universities, including IVY League institutions like Yale, Oxford, Stanford, etc.
The courses here include learning exercises like quizzes, videos, discussion sessions, graded assignments, etc. So, if you are someone who wants to pursue a bachelor's or master's degree without leaving your home, Courses is the ideal online education platform for you.
Related Read:
Wrapping Up: Udacity vs Coursera (2023)
And that's a wrap for today's Udacity vs Coursera post. We hope we have made your decision-making process more manageable.
Udacity and Coursera are both robust e-learning platforms with different strengths. If you are looking for a specialization course to upgrade your skills, we advise you to choose Udacity. However, Coursera is the best choice for a professional course.
Choosing any of the platforms will give you immense knowledge. Over to you, which e-learning platform are you choosing? Let us know in the comments section below!
Latest posts by Alvin Parker
(see all)