Struggling to pick between Udemy vs Coursera? Well, this article will make your pick easier!
Learning a new skill or completing a certification has never been as easy as the time we live in. One of the biggest reasons for this ease of educational provision is the means of online education provided by platforms such as Udemy and Coursera. Both of these platforms are renowned for providing their users with some of the best-curated courses from teachers all around the globe.
Since you're here already, you might already know about both of these platforms and are looking to decide which one is the best for you. The answer depends on your needs and wants from your learning platform.
In this article, we have compared both leading online learning platforms side by side on multiple factors. By the end of this article, you will be able to decide which platform is worth choosing! 
So, without further ado, let's get into the details below. 
Udemy vs Coursera: Key Differences
Here are the key differences between Udemy and Coursera.
Coursera has more than 7000 courses that are divided into ten different categories, whereas Udemy offers 200K+ courses that are divided into 12 different categories.
You can get a Coursera certificate at just $49, or you can buy a subscription to Coursera Plus at just $399/year and earn as many certificates as you want. Udemy does not offer a subscription, you will have to purchase every course in there separately.
Anyone can create a course and start selling on Udemy, whereas all the courses on Coursera are offered by prestigious universities and companies.
With a Coursera Plus subscription, you will get community forum support and connect with instructors and other learners. Udemy does not offer a community forum.
Coursera offers over 2500 free courses that you can learn from, but to get a certificate for the course, you will need to pay $49. Udemy only offers more than 500 courses that you can learn from.
Udemy vs Coursera: Overview
Udemy is a host to both free and paid courses, making it an ideal choice for both the unemployed and salaried members. On Udemy, you can find online courses that professionals and experts curate into a form of class.
These classes provide a lot more exposure than a classroom method, as you get to learn directly from the recorded content of global experts. All the courses that you'll find on this platform are at least 30 minutes long. Most of its courses provide a certificate of completion with your name, which you can later add to your LinkedIn and CV.
Coursera, on the other hand, is home to certified professionals from renowned educational institutes from all around the world. Many of these experts even work at some of the top global firms and teach you how to get in one yourself. The courses on this platform are based on a free-to-audit basis. Hence, you are free to go through any course content you want.

But to get the certificate of completing a particular course, you have to pay the fee levied by Coursera. To complete the certification, you have to enroll in the specializations section. Its certificates are provided by renowned institutions worldwide and hence, add a certain amount of credibility to your CV or LinkedIn.
Udemy vs Coursera: Which Has Better Courses?
Udemy is a platform that offers courses that experts and professionals mostly make. It consists of courses on most of the things that can ever come to someone's mind. The range of the courses it provides stretches from the field of IT to the arts.
Some of the best categories in which Udemy provides its courses are:
Development
IT & software
Business
Finance & Accounting
Office Productivity
Design
Personal Development
Lifestyle
Marketing
Photography
Music
It is a remarkable feat to cover all of these work fields. But these are just the fields in which Udemy provides specialized courses. Many other high-rated courses on the platform belong to different work fields.
On the other hand, Coursera's preferred field of courses is the ones that are related to industrial usage. Since most of its courses are provided by renowned institutions, you won't find courses on it that can help you in your generic hobbies. Most of its courses are specialization-based and require complete dedication instead of the general interest.

Most of the courses that you'll find on Coursera will fall in the category of these work fields:
Data Science
Business
Computer Science
Information Technology
Language Learning
Health
Personal Development
Physical Science and Engineering
Social Sciences
Arts and Humanities
Math and Logic
These fields are pretty educational-based and require some prerequisites as well. Therefore, these courses are perfect if you want to learn skills that can land you a job or a promotion.
Udemy vs Coursera: Community
Udemy provides many more courses than most other online education platforms globally. The number of learners on the platform resonates in proportion with this number of courses. But even after having such a widespread student community, it does not provide a proper forum for its learners.
As important as providing the right kind of content at the right price may be, not having a proper community forum does not go unnoticed. Due to this, many students leave studying and working on their course halfway.
Contrastively, Coursera does not provide courses in as abundance as Udemy. But to support the quality of its courses and ensure that its learners complete their courses timely, it provides a properly built and managed community forum.
The forum is helpful for learners having any issues on the platform while learning on it. The community of learners is also appropriately watched over and managed. Therefore, it provides a suitable space for learners to discuss their queries and thoughts.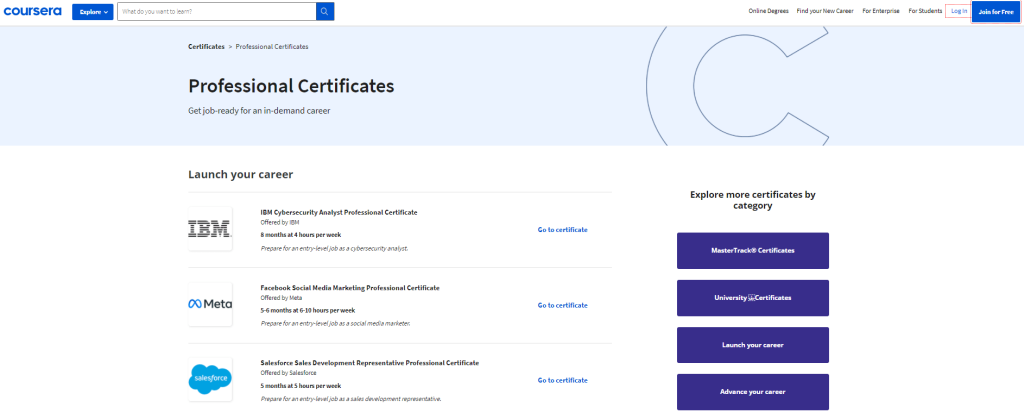 Udemy vs Coursera: How to Decide The Best One For You?
Both Udemy and Coursera are the best in their ways. To choose between them, you need to understand your needs first. To put all the considerations that you need to take to make the right decision between the two areas below:
Which is the field that you want to get a course in?
If you want to take a course to get better at an instrument, painting, or any other such hobby, then Udemy is your go-to platform. But if you are serious about pursuing an interest in the field of data science and engineering, then Coursera will be the right choice for you.
Do you want to add more credibility to your CV or LinkedIn profile?
If your aim in studying and completing a certification is to learn something new while adding more credibility to your resume, you might want to go with Coursera. When you complete a course on Coursera, you get a completion certificate from a recognized educational institution. Meanwhile, when you complete a course on Udemy, you get a certificate from Udemy, which does not provide as much credibility.
Do you want to work on a timeline or on your own accord?
When you buy a course from Udemy, you avail yourself of that course for a lifetime, and you can study it anytime you want. Hence, you can now work on a little part of it and come back to it after some months or years. On Coursera, you have to pay for the amount of time you want to avail the course and know that you can finish the course. This does provide a sort of deadline to you and keeps you on track.
If you want to just go through the study material and content or complete assignments in between?
When you opt to take certification from Udemy, you can either go through the paperwork or not if you want. Therefore, you can just go through all of the video content presented in a certification course without passing any assignments. But when you choose to complete a certification from Coursera, you have to give timely assignments and gain the required amount of marks on them to move forward in a course. You also have to complete tests after each module and provide a combined test at the end of all modules in a certificate to get the certificate for completing the course.
By considering each of these aspects, you can make a list of the platform that you chose the most and take up a certification course in it.
Udemy vs Coursera: Pros & Cons
Here are the pros & cons of using Udemy and Coursera.
Udemy Pros
Udemy has a very large course library where you can find courses in various categories, and some of the courses are also free.
When you upload the videos for your course, they get reviewed by Udemy experts only after that it goes live for the general public.
There is no limit to buying courses on Udemy, you can buy as many as you want, and you will get lifetime access to those courses as well.
Udemy also runs sales and promotions almost every month, so you can buy the courses you want at a very affordable price.
You can access the courses you bought on Udemy from any device you want and learn from anywhere in the world.
Udemy Cons
Even after the deals and promotions, there are certain courses that may be expensive compared to the quality of the course.
The certificates you get from Udemy don't add any value to your resume.
Coursera Pros
Most of the courses available on Coursera are offered by accredited institutions, universities, and companies.
You can audit as many courses as you want on Coursera for free. Auditing the course doesn't give you a course completion certificate.
You can choose from single courses, specializations, degree programs, and master track programs on Coursera.
The quality of the courses available on Coursera is top-notch because they are created by prestigious universities and companies.
Coursera focuses on helping learners learn professional job-ready skills, and after they finish a course, they will also get a course completion certificate.
Coursera Cons
If you're auditing the course, you will get access to the course for a very limited time, and you will need to finish it within that time frame.
After completing the course, it does not show you the materials you submit, like assignments, assessments, and projects to complete this course.
Udemy vs Coursera: Prices
Udemy is a platform with a specified category of courses that are the bestselling in its field. These courses often have regular pricing of about $199 but are seen to be mainly on a sale. This sale lists them in an amount worth 95% less and about $10.
Other than the bestselling courses, most of the other courses on Udemy tend to stay at the same price throughout their timeline. Hence, you can find the best course in a particular category for yourself for anywhere between $10-$15.
On the other hand, Coursera provides a free auditing option to its users. The users can sign up for free on the website and can watch over 1,000 courses on the platform for no cost. But when you want to avail its other features, such as graded assignments, certificates, and mentorship, you would have to pay the fee charged by Coursera.
Coursera charges you for the time that you avail of a course. Most of its subscriptions are divided into three forms which are monthly, quarterly, and half-yearly. The standard price you'll have to pay for availing of Coursera's courses lies anywhere between $40-$80. You can also check our working Coursera Plus Discount Offer here.
Related Read:
Udemy vs Coursera: Final Verdict (2023)
Both Udemy and Coursera excel in providing the best certification courses straight to your mobile device. You can use both to learn and hone skills that you want or need to get better at.
Choosing either of these two depends upon your own preferences and expectations from the platform and the fields in which your selected platforms provide specialization. To make the right choice, all you need to do is put your thoughts in order and keep in mind the things discussed above.
We hope our article helped you understand the differences between Coursera and Udemy. So, which platform are you choosing? Let us know in the comments section below.
Latest posts by Alvin Parker
(see all)