When it comes to EdX vs Coursera, the comparison can be a little challenging, and with the internet filled with so many one-sided or misread comparisons, you might end up being more confused than ever.
So to end your misery, here is an honest and unbiased comparison between Edx vs Coursera. These platforms are robust and have all the essential functionalities and tools so you can approach learning your favorite subject holistically.
Edx vs Coursera has courses conducted by experts from the world's top universities. Courses from these platforms are well-researched and contain high-quality content. These MOOC platforms bring you IVY league education from reputable universities in any corner of the world.
The platforms have a variety of courses for everyone. So whether you are a student who wants to learn more about their subject, develop a new skill, or take self-development lessons, Edx vs Coursera has plenty of options for every aspect you want to know.
Since we have to spend sufficient time on both MOOC platforms, we decided to pen down a valuable comparison for you. So in today's article, we will discuss Edx vs Coursera and their various aspects like key elements, user interface, pricing, etc. We have also examined who is the best match for each platform at the end of this article.
With that, let us dive into the details!
edX vs Coursera: Quick Comparison
Here is a quick comparison between edX and Coursera:
| | | |
| --- | --- | --- |
| Feature | edX | Coursera |
| Founded | 2012 by Harvard and MIT | 2012 by Stanford professors |
| Business model | Non-profit | For-profit |
| Courses offered | 3,500+ courses | 7,000+ courses |
| Subject areas | Computer science, business, humanities, social sciences, etc. | Business, computer science, data science, health, social sciences, etc. |
| Course formats | Self-paced, instructor-led, with deadlines | Self-paced, cohort-based, with deadlines |
| Certificates | Verified Certificates available for a fee | Specializations and Professional Certificates available for a fee |
| Partners | 140+ universities and institutions | 200+ universities and companies |
| Notable partners | Harvard, MIT, Microsoft, IBM | Stanford, DeepLearning.AI, Google, IBM |
| Mobile apps | Android, iOS | Android, iOS |
| Accessibility features | Captions | Captions |
| Languages | Courses in English, Spanish, French, Chinese | Courses in English, Spanish, French, Chinese, and more |
| Learner Community | Discussion forums | Discussion forums, meetups, social learning apps |
| Pricing | Verified track courses can cost from $50 to $300 | Coursera Plus subscription costs $59/month or $399/year |
edX vs Coursera: Key Differences
Here are the key differences between edX and Coursera.
edX offers more than 3500 courses, whereas Coursera offers more than 7000 courses and degree programs.
You can access almost all the courses on Coursera with a subscription to Coursera Plus, which costs $399/year. edX does not offer any subscription; you would need to buy its courses individually.
Coursera offers courses across 11 different categories, whereas edX offers courses across 31+ categories.
To get certificates of completion for any course on edX, you need to buy the verified track of that particular course. You can get as many certificates as you want with the Coursera Plus subscription.
Coursera has more verified instructors than edX, and they also teach at reputable universities.
EdX vs Coursera: Overview
Before discussing Edx vs Coursera, let us look at the overview of both the platforms and their functioning.
EdX Overview
Edx is an excellent online learning platform with more than 4 lakh users. It has 3000+ courses from the world's best universities. In addition, Edx hosts institution-level courses, plus it has degree courses on graduation and post-graduation levels.
It has partnered with several global universities offering courses and prestigious universities like Oxford, Zurich, and London.
From data sciences to business management to humanities, you can find any topic you like on Edx, as it covers almost every aspect of online educational training. In addition, it has some of the highest-rated arts, humanities, and natural sciences courses.
Coursera Overview
Coursera is an all-in-one a robust online learning platform with a massive course catalog of more than 5, 000 courses. It also has degree programs for undergraduates, graduates, and postgraduates from world-renowned universities. 

The best part about the courses and programs at Coursera is that they are based on extensive research and are highly engaging. In addition, you can choose from thousands of options and earn unlimited certificates with your Coursera Plus subscription.  
With the courses being so diversified yet exceptional, Coursera helps https://www.prosperityforamerica.org/how-to-get-a-coursera-scholarship/you accomplish the desired skill set to achieve your academic and career-related goals.
Edx vs Coursera: Key Features
Both Edx vs Coursera has some similar functionalities, yet they stand out for different reasons. By looking at the key features, you will understand why each platform is the other.
Edx Key Features:
Flexible timeline
Self-paced courses completion
Online interaction groups for better communication
Support available in multiple languages
Knowledge evaluation
E-certificates after courses completion
Coursera Key Features:
Graded assignments, quizzes, and projects backed up by Feedback
Shareable e-certificates
Obtainable financial aid
Knowledge tests for development
Offline courses and videos are available
Responsive support team
Edx vs Coursera: Courses
Edx vs Coursera both offer a wide range of courses. However, while the courses on Coursera are more elaborate, Edx has a more targeted approach toward a specific skill.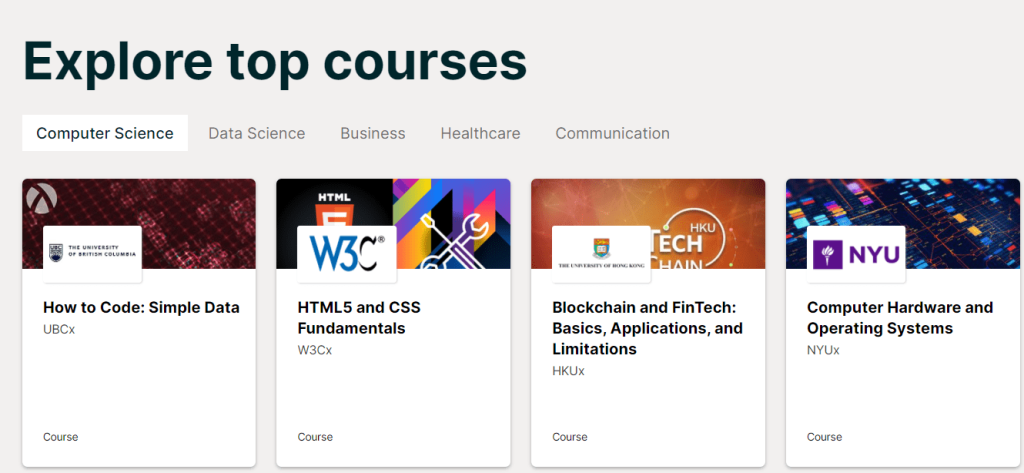 Whether you want to pursue science, business, or arts, they have options for everyone. Below we have mentioned the categories of courses you will find on both e-learning platforms.

Edx Courses
AI & digital transformation
Data science & analysis
Finance, investment, and real estate
Healthcare and well-being
Business management and strategy
Coursera courses
Business Analytics
Graphic design
Academic writing
Account management
3D printing
Arts and humanities
Edx vs Coursera: User Interface
An essential aspect of any e-learning platform is providing users with a simple interface. So that they do not have to spend much time adjusting to the platform and can start learning right away, let us find out whether Edx vs Coursera provides their users an easy-to-use software.
Edx User Interface
Edx is a well-constructed online education platform. Edx has a team of experts who make sure that their users do face any significant difficulties while using their media and can begin their learning process as soon as possible.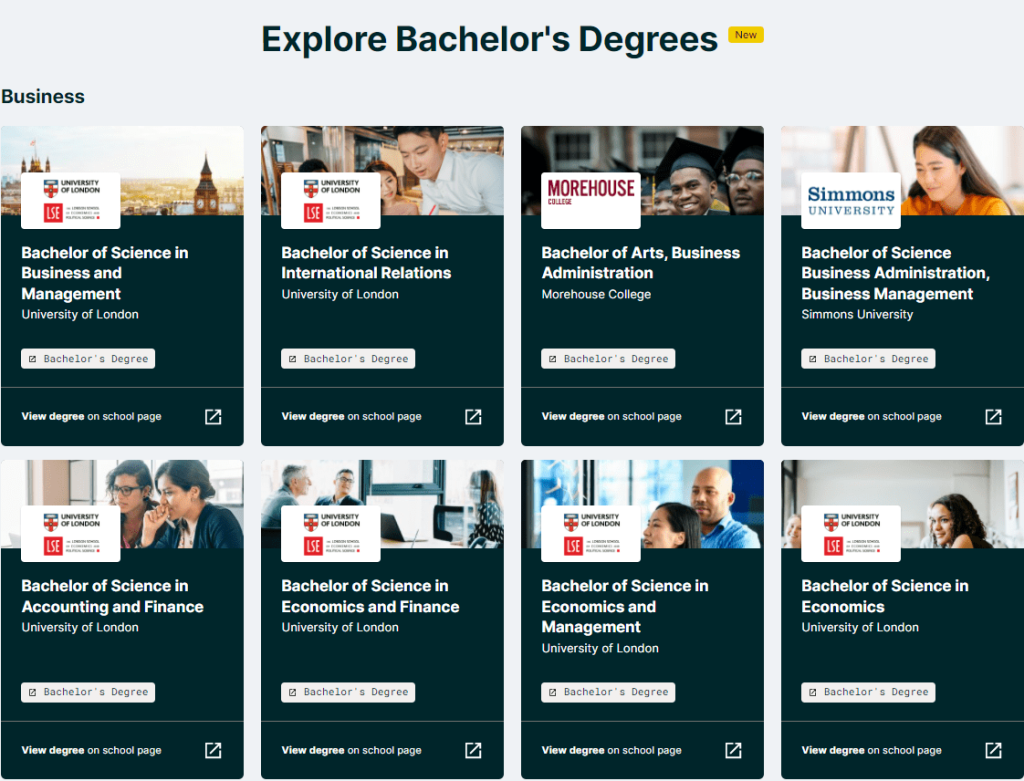 Moreover, Edx has a super simple website interface so that learners can easily navigate through it and find what they want. The top of the home page dashboard consists of the essential tabs and sections. If you are looking for something specific, you can find it via the search bar.
Coursera User Interface
Coursera has been people's top choice to pursue high-level courses, and one of the reasons is its easy-to-use website. It has super simple yet strongly built software that enables you to navigate through it easily. As a result, you quickly find any particular course or degree you want to enroll in.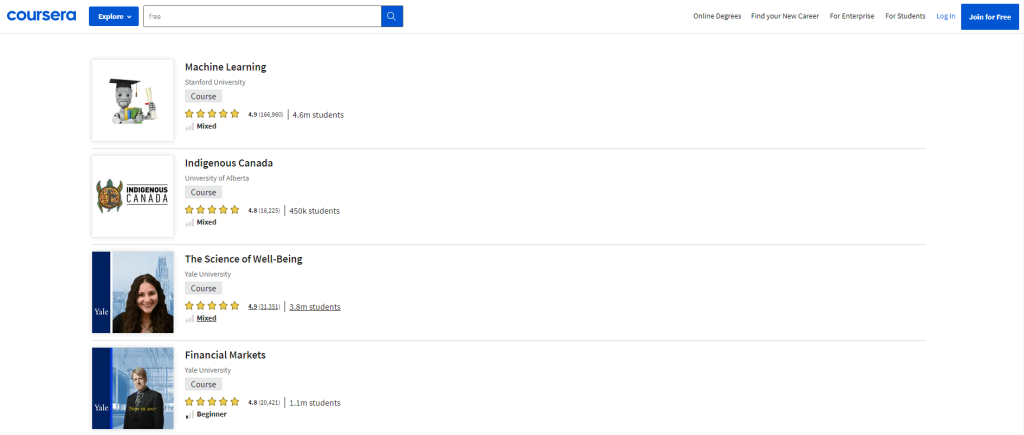 Plus, it has a super simple pricing plan not to confuse the users. Coursera ranks on top of e-learning websites with A-level courses that are easy to access. The website's simple interface allows users to learn with focus and improves their concentration by reducing any inconvenience.
Edx vs Coursera: Customer Support
Any online education platform must have a responsible and interactive support team eager to serve the users with any issues or questions. So here is all the information you need about Edx vs Coursera's customer support team.
Edx Customer Support
Edx has highly communicative and friendly customer support 24/7, 365 days a year at your service. You can simply solve all your queries by heading to their 'contact us page, where you can post your questions and get an answer immediately.
If you still need help with your issue, you can open the chat box in the help center and post your queries there. You will initially connect to a bot and then be transferred to a support executive from the Edx support team. You can also reach out to them via email.
Coursera Customer Support
While Coursera has 24/7 customer support available, the learners using the free version can head to the help center and post their questions in the search box and get generalized help overall.
Coursera Plus users can access the chatbox for any additional issues. First, the bot will ask you questions about your problems and then connect you to a customer executive who will help you overcome your problem.
edX vs Coursera: Pros & Cons
Here are the benefits & drawbacks of using edX and Coursera.
edX Pros
Plenty of content is completely free of cost, which you can finish at your own pace.
edX has partnered with reputable companies and universities like MIT and Harvard to create courses.
The pricing of edX is much more affordable compared to what you will be paying for the same courses in person.
edX has courses from various categories in many different languages. You can access most of them for free.
edX also offers verified certification on many courses, which can help you progress in your career.
edX Cons
There is no subscription plan available, so you can only take one course at a time.
The course library of edX is smaller compared to Coursera's.
Coursera Pros
You can earn accredited certificates from the top universities & companies on Coursera.
Coursera has over 7000 courses in its library, and all the courses are of high quality and taught by instructors from top universities.
Coursera has a Coursera Plus subscription which costs $399/year and gives you access to the entire course library.
There are plenty of free courses available on Coursera.
Courses have subtitles in various languages, so you can easily learn from Coursera in your native language.
Coursera Cons
The pricing of Coursera is confusing because there are plenty of ways to learn.
You can not preview the assignments before enrolling in the course.
Edx vs Coursera: Pricing
Below, we have mentioned the pricing of Edx vs Coursera so you can decide which platform fits your budget and then choose.
Edx Pricing
While Edx has a free version that gives access to many of its courses, you can certainly not unlock all the advantages of the e-learning platform. To avail of all the benefits like certificates, assignments, quizzes, etc., you will have to upgrade the premium subscription.
Edx has a simple pricing plan for all the individual users out there. The paid subscription will cost you around $349 a year, and for people who want to achieve some excellent skills and upgrade their portfolio, this is the best membership plan.
Coursera Pricing
Coursera offers its users three types of upgrades. First, you buy each course separately, but this simply does not make sense for people who have multiple courses on their list. On the other hand, people who have a specific course should opt for this option.
Besides, Coursera provides financial aid for students who can't afford to buy their courses. This makes it an excellent option for people who want to opt for Coursera.
Now, Coursera Plus has two subscription plans available. The first one is their monthly plan which is perfect for individuals who want to complete specific courses quickly. It starts at $59 a month. 
The annual subscription starts at $399 a year and is ideal for people who want o take up multiple courses to earn several certificates. This plan works best for people who wish to complete courses at their own pace. You can also check our working Coursera Plus 7 days free trial offer here.
Who is Edx Ideal for?
Edx has a diversified course catalog. Although compared to Coursera, the numbers appear to be less, Edx ranks on top for courses in Humanities and natural sciences.
While Edx provides the best interactive courses from top global universities, it archives its old courses to add new ones after a while. So you can still access and learn from the archive courses; however, you will not be eligible for a certificate. Not to forget, it has incredible, great courses, including its free version.
Moreover, Edx has an affordable membership charge making it perfect for people on a budget. Edx has a three-step approach to learning: experience, practice, and apply. Overall, Edx is ideal for someone who wants to learn about their subject in-depth and develop essential skills from the knowledge gained.
Who is Coursera Ideal for?
Coursera has a massive course catalog with more than 7000 courses available. It provides top-notch courses and has graduate and post-graduate level degrees from the world's top universities, so you do not have to travel to a specific place to complete your graduation.
While Coursera plus for individuals has all the necessary amenities, Coursera business has excellent features. For example, the enterprise plan gives access to unlimited courses, user analytics, skill metric, and much more. As a result, Coursera Plus is the perfect online learning platform for individuals who want to upscale their skills and learn about new topics from scratch and master them.
Related Read:
Final Thoughts: Edx vs Coursera (2023)
That's it for today's article. We hope our comparison of Edx vs Coursera helped you gain all the necessary information you were looking for.
Both the e-learning platforms are powerful and efficient. Therefore, there is no platform better than the other. However, if you are looking for a platform with a wide variety of courses, we advise you to go with Coursera.
Similarly, if you are someone who wants to learn about your favorite subject but has a fixed budget, we would recommend Edx.
The final decision is yours to make as you will be happy with both the e-learning platforms. So which online education platform are you choosing from Edx vs Coursera? Let us know in the comments section below!
Latest posts by Alvin Parker
(see all)