Do you want to sell a course but are stuck between Teachable and Skillshare?
I reviewed Teachable and Skillshare on different aspects, including Teachable and Skillshare's benefits. Yet, there were a lot of features differentiating from one another.
In this article, you will learn the main differences between Teachable and Skillshare, the process of course creation, how to gain profits, and the pricing plans.
If you want to make the best course, keep reading to find out the apt platform!
Teachable vs Skillshare: In A Nutshell
Sharing something you have learned in your life to someone who has yet to gain knowledge about it is priceless. Several platforms on the internet make your dream of educating students possible by helping you with the entire process.
Yes – Platforms like Teachable and Skillshare take care of all the boring tasks of curating a course from scratch. At the same time, you can concentrate on enhancing your course for a better learning experience by making custom changes and useful integrations. 
What is Teachable? (An Overview)
As the name of Teachable suggests, it is evident that the platform has got something to do with teaching, and it does exactly that. Still, in a great way – Your entire course selling procedure becomes smooth with hassle-free integrations using Teachable.
It does not stop there. Teachable got quite the benefits you can offer to your dedicated students as an instructor, like giving out course completion certificates, attending group coaching calls, and completely cutting off transactions fees.
You are in safe hands if you use Teachable because everything is transparent to you!
What is Skillshare? (An Overview)
To get detailed insights into Skillshare make sure to check our detailed Skillshare review.
In contrast, Skillshare is yet another brilliant learning platform that is known for its high-quality content on creative niches like writing, designing, and painting. The lesser talked about feature in Skillshare is the "Become a Teacher."
Although Skillshare promises that ANYONE can become an instructor and sell a compelling course on its platform, the features are mostly caged with boundaries.
The add-on benefits that you might often get in other competitors like Teachable are absent in Skillshare, but that should not stop you from selling your course there.
Hear me out. You can consider Skillshare if you have a short course that you feel might be insightful and can be labeled under the "edutainment" content; you are welcomed with open hands in Skillshare with an already existing audience base.
The disappointment in the lack of features to expand your course growth is real in Skillshare, but I hope the platform updates with tools that can benefit the instructors.
Forget the basic features; you cannot promote your course like the way you do in Teachable using custom HTML codes which means there is no option to personalize your sales page in Skillshare. You can still use the "drag-and-drop" builder, though.
At a glance, if you are looking for a way to build a full-fledged course with an immersive learning experience by sponsoring informative content, Teachable is your best bet. In contrast, Skillshare is a better option if you handle not-so-long courses!
The biggest benefit of choosing Teachable over Skillshare is the fact that you get a plethora of options to customize your course and personalize the experience easily.
Teachable vs Skillshare: Creating A Course
You are clear that Teachable and Skillshare can help you in creating a compelling course, but how do you do that? Nothing to worry about – I got you covered with easy steps!
How to Create a Course in Teachable?
The course builder in Teachable is well-programmed with demanding features that you might expect as an instructor or educator in general. You get almost everything!
Not all instructors would want to host a workshop on a certain topic. Instead, they might prefer learning modules, and so Teachable gives you two incredible options.
You can either schedule an insightful session via Teachable or compile a compelling course with several resourceful lessons and sell it as a self-learning course. I found Teachable to be easily adaptable since it allows you to choose according to your needs.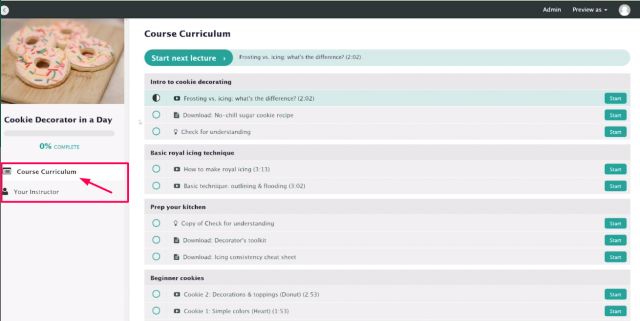 For instance, if you are an entrepreneur and would like to host an event to teach people about leadership, you can choose the coaching plan in Teachable.
In case you opt for the course option, Teachable will direct you to another page where useful pre-designed course templates are available for ready use. There is no mandate rule in Teachable to use the course template, which you can create from scratch.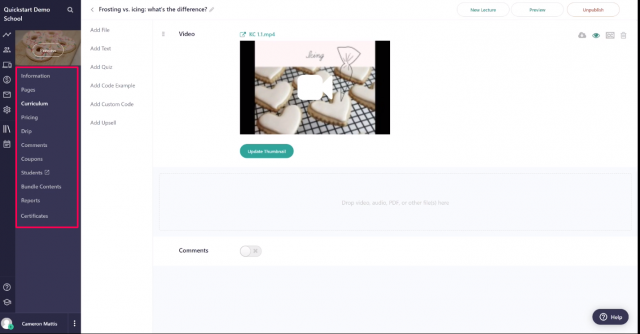 Upon choosing the blank template for course creation, you can start structuring your course curriculum and dripping your content in Teachable. Additionally, you can also add short quizzes at the end of each chapter for instant revision after learning.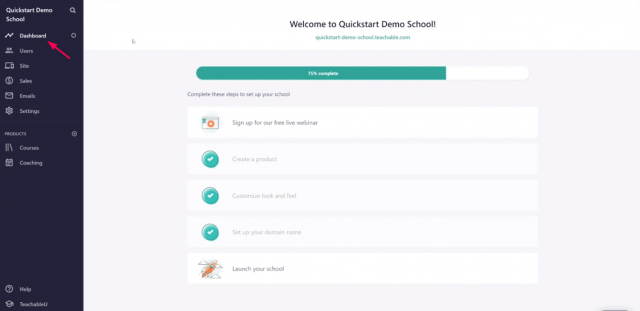 You can also attract potential students by offering discount codes and turning them into your customer base for the courses that you sell on Teachable. That's a hack!
In fact, you can let the students choose your course based on different pricing plans with restricted content or certain limitations. This way, the students get to choose.
The best thing in Teachable – You can either pay 5% as a transaction fee from your courses or cut it off completely by purchasing the Pro or Business plan in Teachable.
If you are on the advanced level of teaching with personalized branding, Teachable has got the right tools that let's create your course website with no Teachable branding.
How to Create a Course in Skillshare?
In contrast, creating a course in Skillshare is easy, but you fall back with little to no features like Teachable, and so you can only choose Skillshare if you have short courses because there is no quiz support or coupon code option.
Basically, you can use Skillshare as a third-party platform to sell your course since Skillshare does not guarantee certificates on completion of any such features.
Upon creating a course in Skillshare, you'll be prompted with questions like "why are you creating this course?" but it does not provide any add-on benefits to it as well.
This is why Skillshare is lagging behind compared to Teachable. Although Skillshare might not have fancy tools like Teachable, it still highlights the class info with descriptions and offers merchandising tips for the instructors.

You can create hours-long classes in Skillshare, but you might have to change your mind and choose Teachable for a better option, looking at the limitation of tools. The main downside that you'd face in Skillshare is the option of customization.
The after-effects of course creation in Skillshare are that you do not have to spend a dime in marketing and advertise your course since it will automatically be recommended to students searching for similar interests in Skillshare.
Teachable vs Skillshare: How To Get Students?
Creating a course on Teachable and Skillshare is not that difficult but what comes afterward is a lot harder than it seems. After creating the course, you now need to attract an audience to enroll in your courses. Here's how you can do it on Skillshare and Teachable.
How To Get Students On Teachable?
When you create an online school on Teachable, you start from nothing. The first thing you need to do is create a strategy to bring in traffic to your Teachable website. It would be best if you built a loyal audience first. It also depends on how strong your online presence is. If your online presence is strong, then it will take you a short time to build an audience; otherwise, it will take you much longer.
However, you will still need to remember that your online school will not start getting an audience on the next day of its launch. One of the best things of Teachable is that it gives you complete control over your courses and marketing. You can use its marketing tools to target a specific group and increase your community of students, which you obviously can't do on Skillshare.
How To Get Students On Skillshare?
You won't be starting from scratch on Skillshare in comparison to Teachable because Skillshare already has an audience that can become your students. But it won't happen all by itself; you need to put in the work to attract students to enroll in your courses. You will get access to a large audience and promote your courses and invite them to become your students, which is much better than nothing.
However, you're not the only teacher on Skillshare because it is filled with plenty of instructors, so it is more likely that your courses might get virtually disappeared in the crowd. Skillshare also doesn't provide many marketing tools to help you in this case, which is a problem. But you can promote your Skillshare courses on social media platforms and bring students from there.
Teachable vs Skillshare: Gaining profits
Now that you can curate a robust course in Teachable and Skillshare, what is the secret sauce to gain profit out of it? I got the best way to gain profits from them:
How to Gain Profits in Teachable?
Teachable is one of the best course-selling platforms that can help you make A LOT of money, but it comes with a cost. You might have to do the hard work in promoting your course successfully through social media platforms like Instagram and Meta.
You might have to pay for ads and keep the enrollment coming through it at times! The promotion and advertising for your course could be secondary, but you need to know that Teachable does not hold a limit on your sales or earnings per course.
You can earn as much as you want with excellent flexibility, and Teachable will not restrict your earnings at any cost. I mean, there is NO SUCH CONTRACT as well.
Still, you need to remember that Teachable holds 1%-5% as a transaction fee if you create a course using the free or basic plan. If not, you don't have to pay any fees.
This is utterly why the majority of educators opt for Teachable to make the utmost profit.
How to Gain Profits in Skillshare?
On the other hand, Skillshare allows you to earn profits through two different ways that might get you thinking, "hmm, this seems like a good idea," but trust me, it is not.
I agree that you'll be able to make profits through Premium Referrals, wherein every time a user signs up with your referral link, you get $10 as commission.
Another way is that you can earn through Royalties in Skillshare, which means your earnings will be calculated based on the number of minutes watched by a user.
This cannot give you a stable income if you solely depend on your courses, plus the revenue through royalties can be comparatively low and insufficient. Plus, Skillshare does not let you curate pricing plans or even fix a cost on your course.
This majorly impacts the worth of your course, efforts, and time spent on creating it. Yet, if you look at Teachable, you will be the owner of your course under the platform.
In contrast, sadly, Skillshare does not even let you quote the budget for your course.
Teachable vs Skillshare: Main Differences
Two solid platforms with unique features to sell your course are competing against each other. Let me quickly bring out the main differences between them:
Teachable lets you make the utmost customization from your course creation to the sales page to the pricing plan. In contrast, Skillshare does not let you customize anything except the internal course settings.
Teachable takes only 1% to 5% transaction fee, and even it can be eliminated if you choose an advanced plan. In contrast, Skillshare does not let you own the course completely.
Although you'll create a course through Teachable, you can remove the Teachable branding and bring a personalized touch to your course website. In contrast, you cannot take Skillshare branding away or do anything about it.
You can curate compelling graded quizzes and make the learning insightful for your students in Teachable, whereas you cannot find such options in Skillshare; you are left with minimal features.
Teachable can help in creating certificates for your students, while Skillshare does not provide any certificate on course completion with no rewards.
Through the basic plan in Teachable, you can also receive integrated email marketing, which will help in fetching students. In contrast, Skillshare recommends your course along with similar interests viewed by a user. 
There are no restrictions in the student count, coaching services, or basic quizzes in Teachable despite offering it all for free. Yet, Skillshare holds the service at a price and literally does not offer any such features.
Looking at Teachable and Skillshare at a surface, it is evident that Skillshare is struggling to live up to its competitors, and you cannot benefit a lot from Skillshare.
Teachable vs Skillshare: Pros & Cons
Here are the pros & cons of using Teachable and Skillshare.
Teachable Pros
It has a very intuitive interface.
Teachable offers more tools for you to create courses than Skillshare.
It offers better value for money.
Plenty of customization options available.
It comes with a free plan.
Teachable Cons
The free plan has its own limitations, such as you can create only one course.
It charges a transaction charge on the free and basic plan.
Skillshare Pros
Skillshare is an affordable option compared to Teachable.
It comes with plenty of free courses.
You can easily upload your courses and get paid for them.
You get the benefit of Skillshare's already established audience.
It also comes with a free version.
Skillshare Cons
Not many customization options are available.
Tools to create only video lessons.
Teachable vs Skillshare: Which Is Affordable?
I'd like to drop some good news at this section which is Teachable, and Skillshare is available for free. Anyone can sell a course without spending a single penny!
Off. Internal peace! Now that you know you can sell a course for free in Teachable and Skillshare let me share some insights that you might have to know beforehand.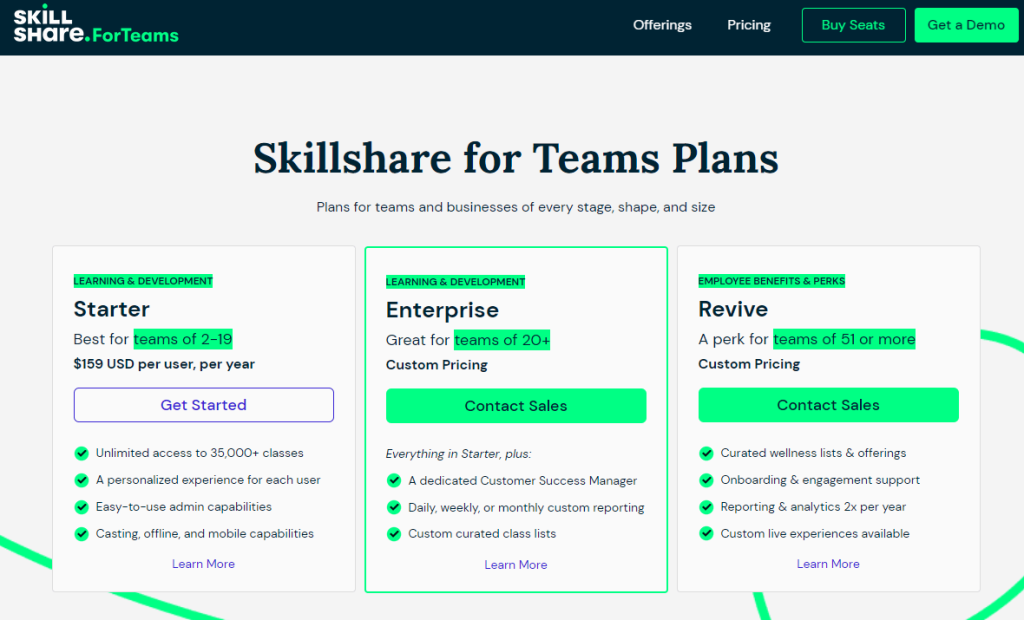 You can also sign up for the premium membership plan while seeking a way to conduct a course in Skillshare. This does not affect your course creation in Skillshare, though. Yet, it will unlock Skillshare Originals and premium classes in the platform.
If you are considering Skillshare then check our working Skillshare Discount Codes to save a few bucks on your purchase.
Regarding Teachable, you can do the same, but you can benefit a lot, unlike Skillshare. Yes, you heard it right. Despite curating a course through the free plan, you can choose from course templates, offer multiple coaching services, etc.
To give further context about the pricing plans in Teachable, let me list them below:
FREE – Sell your course without spending money!
Basic – $59 per month (5% transaction fee will be deducted)
Pro – $159 per month (no transaction fees)
Business – $665 per month (no transaction fees)
The more advanced the plan is, the more options you'll get to customize your course according to your preference. Even bulk student enrollments are achievable easily!
Considering all the benefits, the Pro plan in Teachable is the most effective plan because you basically cut down the transaction fee and customize your course.
NOTE: All the plans are billed annually in Teachable!
Related Read:
Final Thoughts: Teachable vs Skillshare (2023)
Sharing a slice of what you have learned can feel good, but sharing it on the right platform with added benefits is a great feeling. Through my research with Teachable and Skillshare, I can say that Teachable truly is the winner in terms of functionality.
To be honest, Teachable checked out the boxes in all fields, including course creation, pricing plans, completion certificates, customization settings, and much more. 
In contrast, if you look at Skillshare, you might frown down with the basic features. Forget everything; you do not even receive certificates on completion in Skillshare. The main benefit that you can see in Skillshare is that you do not have to promote your course. 
Since the course you create will be listed along with similar niche courses, Skillshare will automatically recommend your course to students who are searching for it. Now that brings us back to Teachable, where you are exposed to many benefits!
Use Teachable and sell your outstanding course with customizable settings now!
FAQs On Teachable vs Skillshare
Is Teachable free?
Yes. Teachable is free, but if you want to cut down transaction fees, you might have to update the Pro or Business plan in Teachable.
Can anyone become an instructor in Skillshare?
Yes. Using the "Become a Teacher" feature in Skillshare, anyone can become an instructor if they have a compelling course to teach.
Can you earn profit in Teachable?
Yes. You can earn as much as you want with no limits in Teachable. 
How much can you earn in Skillshare?
If a user purchases the Skillshare Premium Membership, you'll get $10 as a commission for every transaction. You can also earn through royalties.
Latest posts by Alvin Parker
(see all)